SYRACUSE, N.Y. – Syracuse welcomed another top 10 opponent into the JMA Wireless Dome on Sunday afternoon. The Orange had a chance to extend their 3-game win streak, while Notre Dame has been winners of 4 of their last 5.
The first three quarters of the game could not have been scripted better for the Orange. Syracuse constantly kept the game close and even took the lead a few times. That was before the Irish would pull away with a 22-point fourth quarter that would be all the difference.
It started in the first quarter when Syracuse couldn't get the offense going, but did not need to because the defense was able to stand tall with three blocks delivered to the Irish. The first 10 minutes would end with both teams tied at 16.
The second quarter would be another back-and-forth affair, with the Irish pulling ahead. Notre Dame would take a 5-point lead into halftime, 31-26.
Only one player was in the double-digits in points after the first 20 minutes, and that was Notre Dame's Olivia Miles with 10.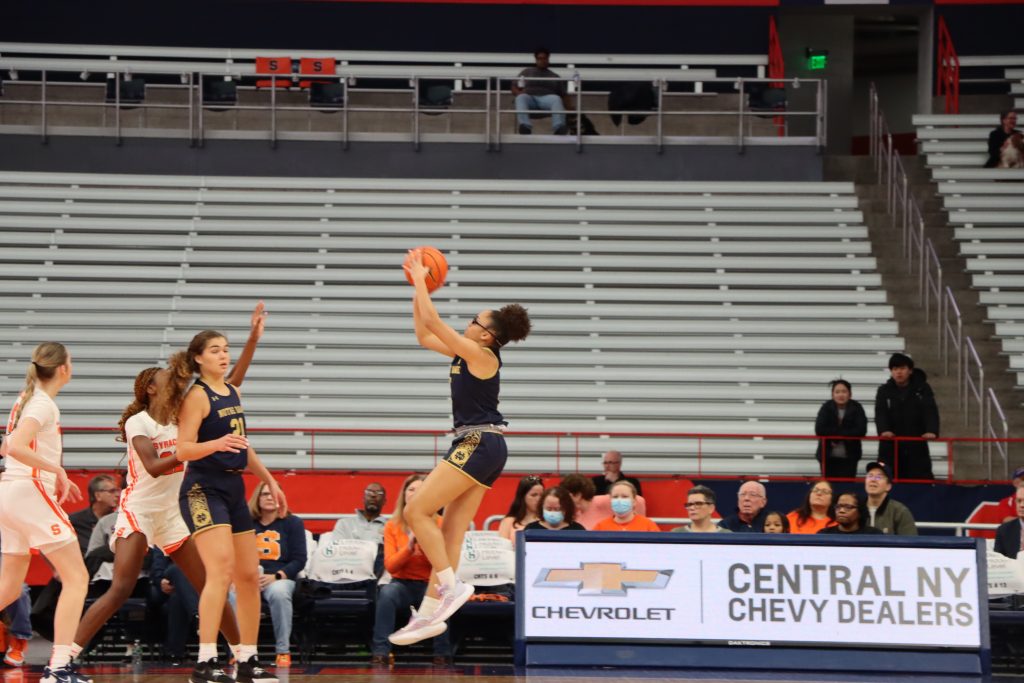 As the second half got underway, the game plan did not change for the Orange. The defense stayed pesky and made it difficult to pull away. The Irish and Orange once again tied quarter points each with 19, keeping the lead at just five for Notre Dame.
The fourth quarter is where everything changed for the Orange. The Irish have been one of the best teams in the country in the fourth quarter all season long, and on Sunday, it was no different. Before the Orange could blink, the Irish quickly went on a 7-0 run to start the final frame of action. Notre Dame would end up outscoring the Syracuse by 11 points in the fourth quarter alone.
After looking like the Orange had the potential to pull of the upset through the first 30 minutes, in the final 10 minutes, the Irish proved why they are the number seven team in the country, and walked out of the JMA Wireless Dome with a 16 point victory.
The Irish were led in the scoring column by the pair of Olivia Miles and Dara Mabrey. Miles led all scorers with 23 points and was 11-15 from the field. Mabrey followed with 15 points and hit three from beyond the arch. Lauren Ebo was all over the boards for the Irish, securing eight rebounds.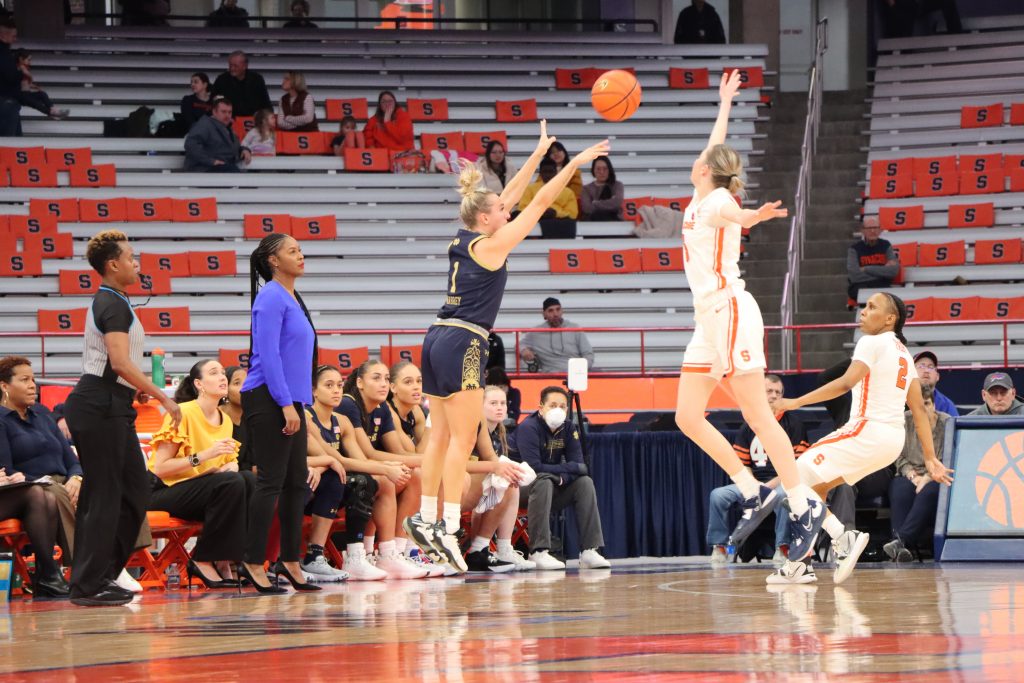 On the other side, the Orange were led by Dyaisha Fiar and Asia Strong. Fair had a team high 14 points and Strong followed with 11. Kyra Wood worked hard in the point and was rewarded with nine rebounds.